This year was the inaugural running of the USA Pro Cycling Challenge, which is essentially the Tour of Colorado. This event is a big deal for cycling-rabid Colorado, and I made sure to head up into the mountains and catch some of the action. I decided that the Stage 3 Vail Time Trial would be the perfect venue to capture some images, since I'd have a long period to shoot, as opposed to a few frenetic minutes. This was a highly experimental photography adventure for me. I attempted to light the riders with a studio strobe on the course, in the middle of spectator mayhem. There were MANY challenges to overcome, mostly involving masses of spectators getting in the way of the strobe. This is not a great technique to achieve consistency across an entire photo set, but the results are incredible when all the factors come together in a perfect moment.
From a technical standpoint, I was using a Nikon D700, Nikon 70-200 f/2.8 VR2, AlienBee 1600 with a Vagabond Mini, and PocketWizard FlexTT5 MiniTT1, AC3 and AC9 components. I was able to pack all of this gear into a backpack and ride out to the course, which was essential since there was not close car access. There are two great things about these new PocketWizards. The first feature is that I'm able to capture very high shutter speeds while still using flash. Most of these shots are in the neighborhood of 1/1250 of a second, providing sharp, action stopping clarity. The second essential part of this setup, is that I have the ability to adjust the strobe power from the camera. The race was held under partly cloudy skies, and the sunlight was constantly changing from bright sun to shadow. It was extremely difficult to keep the exposures consistent, since every time the sun would change, I would have to make an adjustment. Fortunately, I was able to do it from the camera. I would have been able to take more consistent shots with constant ambient lighting conditions, but I'm certain that I will improve in my setting adjustments with practice. An unusual side effect of shooting over the sync speed, is that adjusting the shutter speed also affects your flash power. This made manual camera and flash power adjustments a bit more complicated than I'm used to.
As a final note, all this technology comes with another hefty price. I've been unable to get consistent firing with these units. It's a real bummer when you've got one chance for the shot and the flash doesn't go off. Insert unhappy face here. Nonetheless, the performance advantages and high power of this system keep me banging my head against the wall and keep trying to work out the bugs.
I've picked my top photos, based on lighting as well as importance of riders. This first photo is probably my top favorite, featuring this animal of a man called Jens Voigt. Simply a stunning photo and stunning expression. The sun was mostly behind the clouds which is giving him a soft rim light on his right arm and shoulder.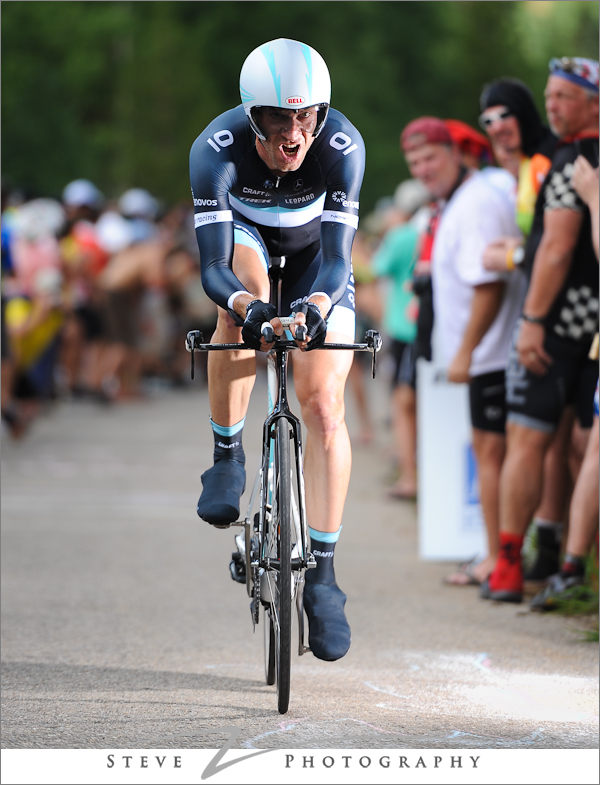 Next we have Colorado prodigy Danny Summerhill gritting his teeth and looking like he's actually enjoying the pain.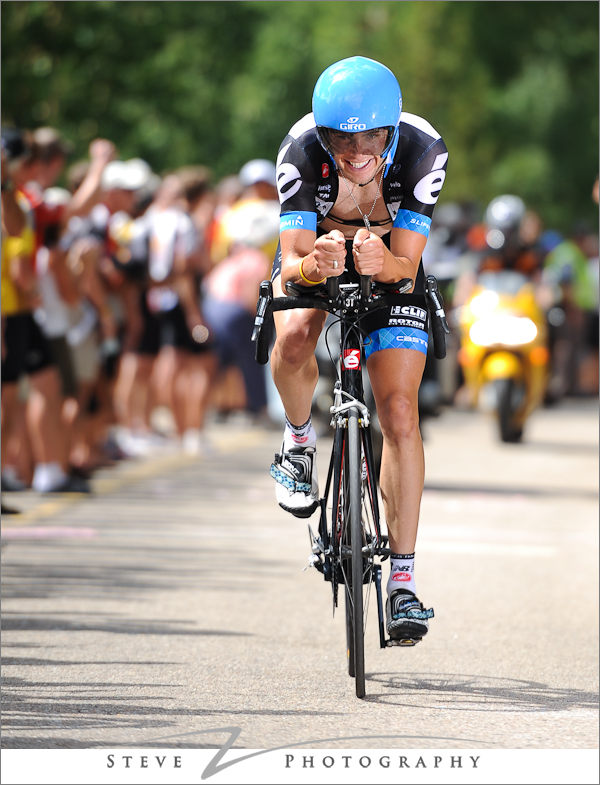 I've never heard of Carlos Rodriguez, but I do like the feeling of this photo. Here the sun came out in full strength, so I cranked up the strobe to balance the sunlight, thereby giving the photo a bright commercial look.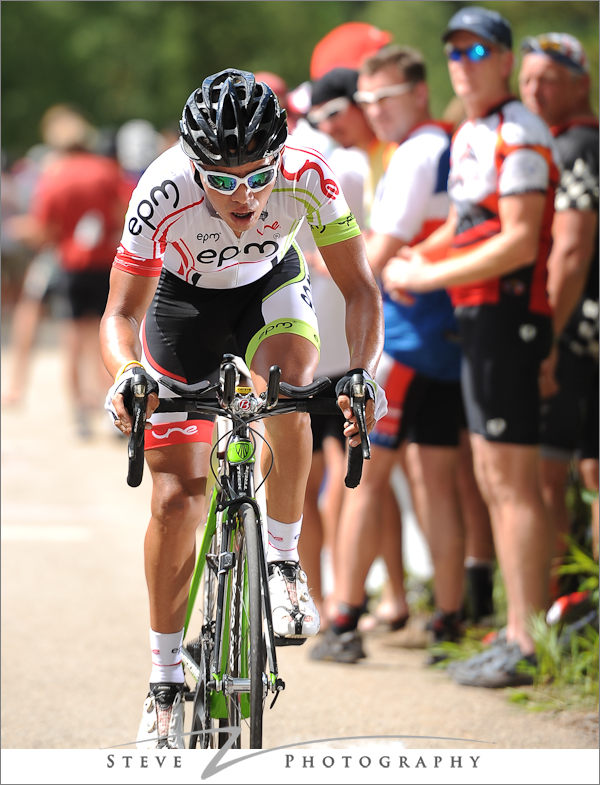 I had to include this shot of Anders Lund since he's being chased by some nutjob in a wig. Interesting blur on the left side from a spectator's arm. I call that Art.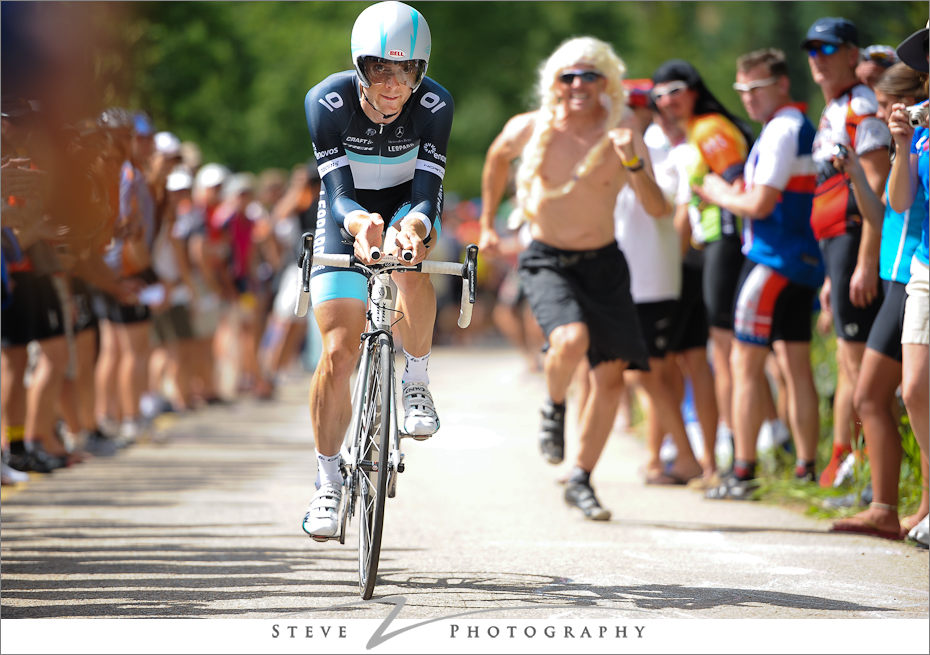 If this next shot was capture using merely natural light, we probably wouldn't have been able to see the steely gaze of über-star Fränk Schleck from behind the visor of his time trial helmet.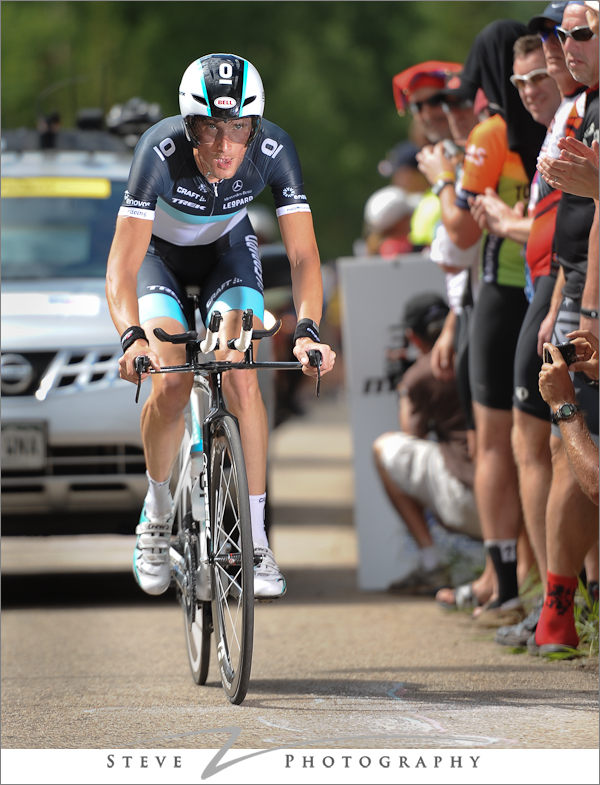 Here's the big shot of the big man Cadel Evans who was fresh off his first Tour de France win. Unfortunately Cadel rode on the far side of the road on the outside of the bend, which was farther away from the strobe than everyone else was riding. I guess when you are a superhero you don't even have to take the shortest line.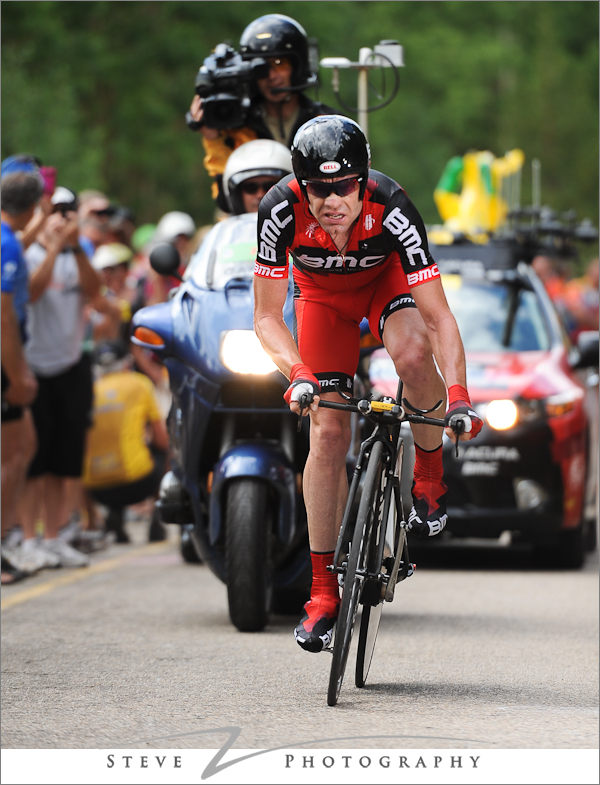 In the above shot, do you see the yellow and green blob hovering about the team car? Yeah, well that is an Aussie cycling fan cheering on The Man!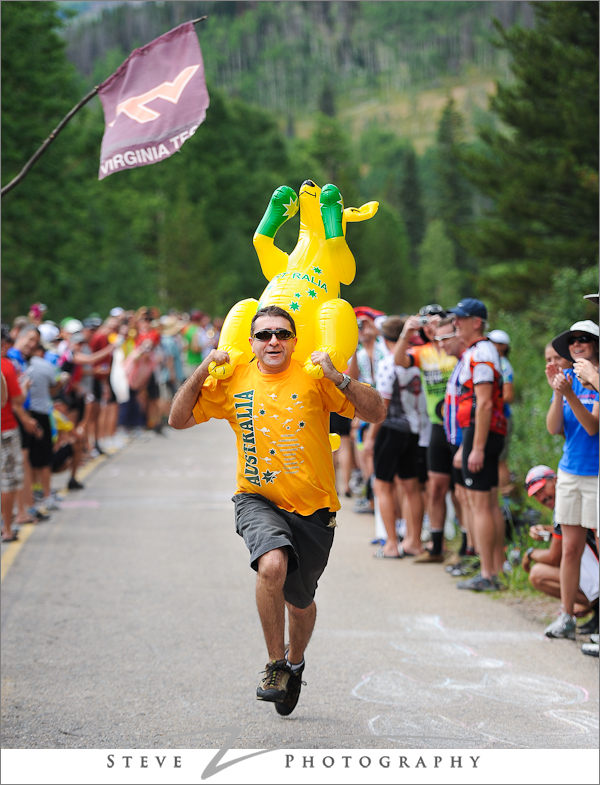 Here we have the stage winner and eventual overall race winner Levi Leipheimer. This is where I have to shed a small tear, since I experienced a painful PocketWizard misfire. Decent shot, but to me it lacks the punch of some of the other shots without the auxiliary boost of light. I did very minimal retouching on these photos, but I did brighten Levi's face in this shot s
ince it was underexposed.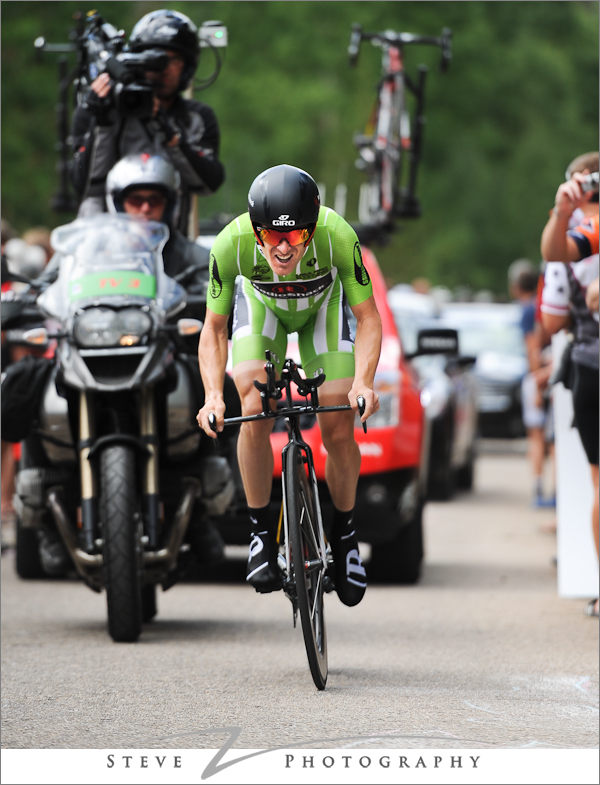 Things were getting crazy by the time Stage 2 winner, fan favorite, and penultimate rider George Hincapie hit the final stretch. I switched to a horizontal position to show more of the crowd jumping in front of me.
The final rider of the day was race leader and young American Tejay Van Garderen. Tejay put up a valiant fight but was denied the victory by the deep experience of veteran Levi Leipheimer. You'll be hearing much more from Tejay in the decade to come. On a technical note, it's pretty obvious where my strobe was placed!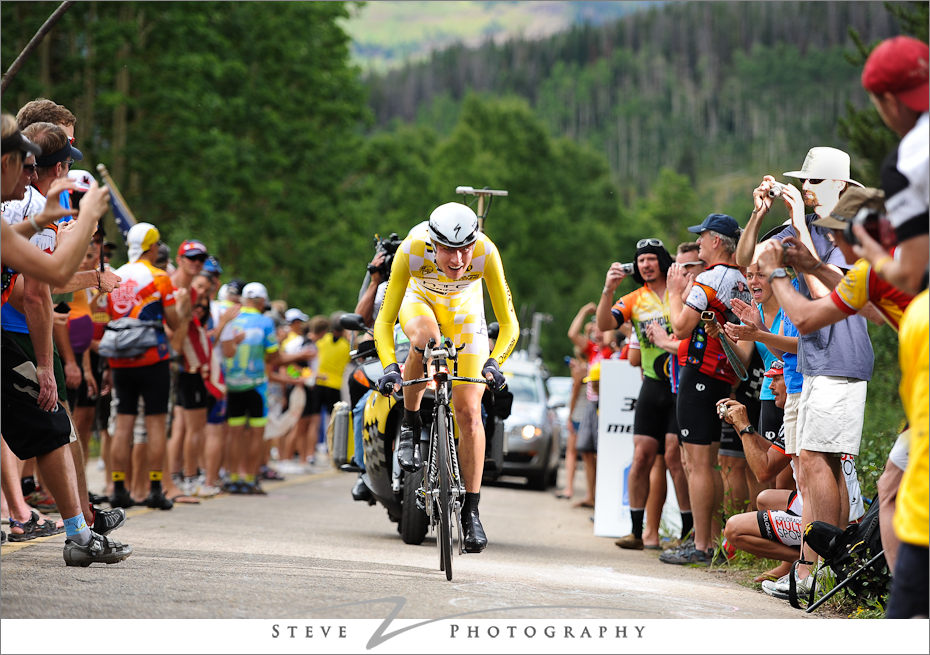 Well I hope the photographers out there have enjoyed my technical details, and everyone else probably isn't reading this and just looked at the pictures anyway. Another option with the PocketWizard Flex units, is that I could have shot using TTL flash metering. This may have made keeping up with the changing light a bit easier. But frankly, auto shooting scares me. Under normal portrait conditions I like to have complete control of my camera and flash so that I get exactly the results I'm looking for. However, if I get another chance to shoot in conditions like this, I just might see how these units are able to auto expose the riders.